Dr. Seuss came up with the idea of putting an elephant in a tree for his book, Horton Hatches the Egg, more haphazardly than you might think.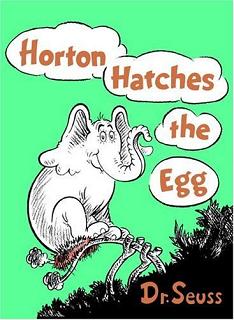 Theodore Geisel, a.k.a. Dr. Seuss, was drawing one day at his cluttered desk.
As fate would have it, he left his window open, and a big gust of wind blew his papers around, plopping an elephant sketch on top of a sketch of a tree.
"Hmm. What do you suppose that elephant is doing there?" Geisel asked himself.
His answer? "He is hatching an egg."
And so the idea was born, and Geisel filled in the gaps with the rest of the story.
Geisel admitted later that inspiration never struck again in the same way.
"I've left that window open ever since, but it's never happened again."