Double eagle is a term used to denote three under par.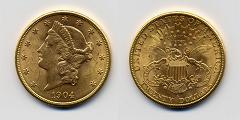 This was once called an "albatross," and in some circles it still is.
An eagle is two under par; a birdie is one under.
A Double Eagle is a also gold coin of the United States with a denomination of $20.
The first double eagle was minted in 1849, coinciding with the California Gold Rush, and the mint produced two pieces in proof that year.
The first resides in the Smithsonian Institution in Washington DC.
In 1850 regular production of the Double Eagle began and continued until 1933.
Giving Em the Bird.