Dingoes are wild dogs native to Australia the size of English setters, and hunt wallabies, sheep, rabbits, and anything else they can catch and drag away.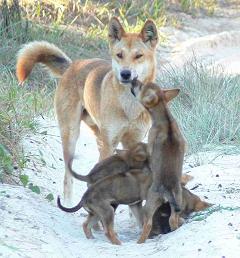 In 1998 a dingo was accused of dragging a baby a few feet toward the bush before being chased away by the infant's parents.
In a celebrated murder case in 1980, the parents claimed that it was really a dingo that killed their baby.
In real life, the parents were first convicted of the murder and then cleared on appeal, but whether a dingo was really involved has never been formally resolved.
So the short answer is that dingoes probably could drag away a baby and eat parts of it, but it has not been proven that they ever have.
A Dingo Ate My Baby.