While moviegoers across the country flocked to the films of Humphrey Bogart to swoon over his aloof machismo or be dazzled by his daring, teenaged Betty Bacal stood in the shadows of the streets of Brooklyn, as yet unknown.
Hanging out in front of Sardi's, she sold a theatrical sheet, Actor's Cues, and brazenly introduced herself to any passing director or producer. She'd quit the American Academy of Dramatic Arts with the intention of sailing straight into a stellar career on Broadway.
But in three years she found only minor roles in three shows, and these flopped and quickly closed. One was Johnny 2 x 4, in which she played a bar girl in a 1926 Greenwich Village speakeasy and had no lines at all. To make ends meet, Betty modeled in the garment district and later got a job in a theater as an usherette, earning $8 a week.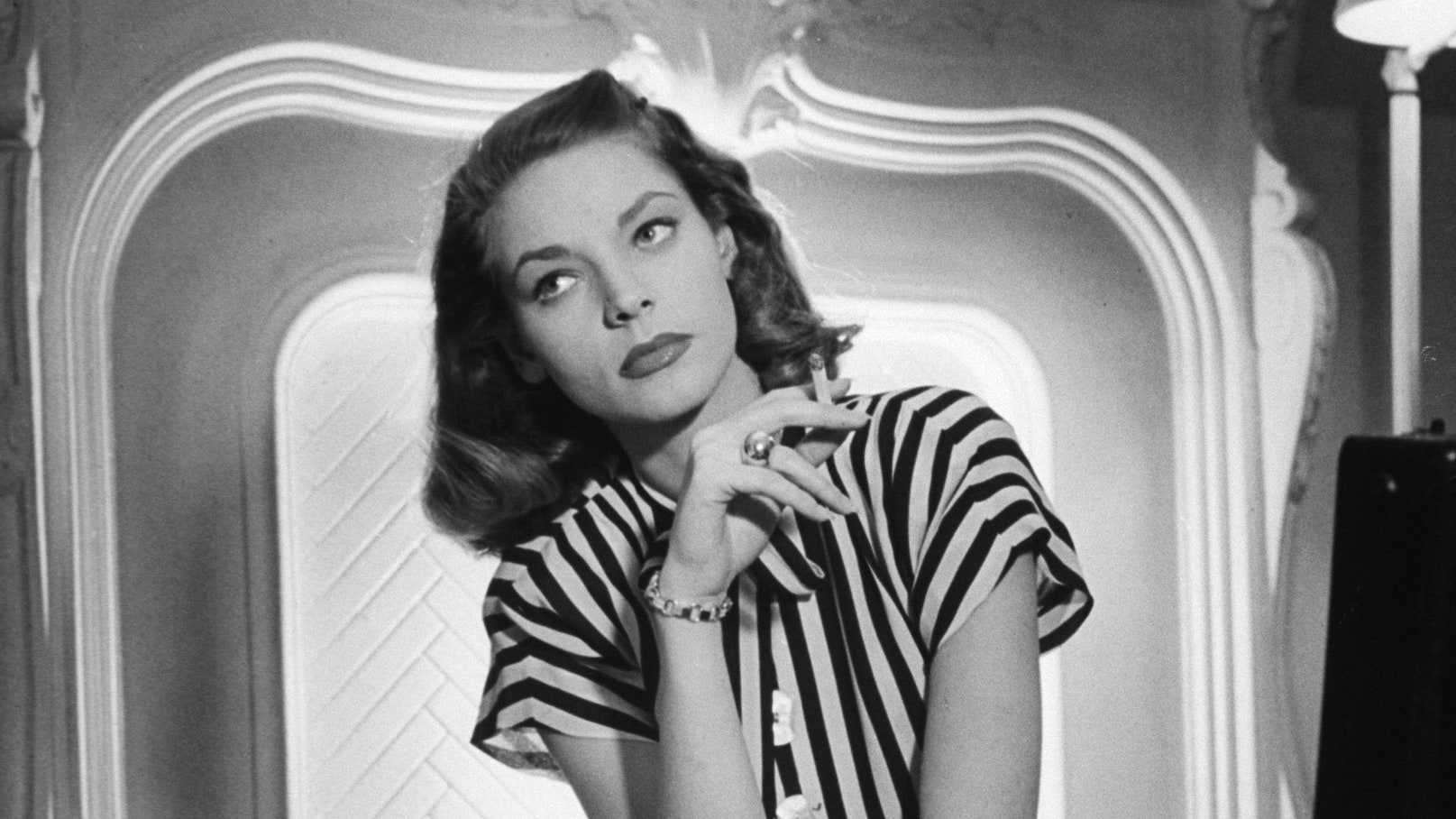 Luck was with her one night at Tony's, where she was introduced to Baron Nicki de Gunzburg, an executive in the fashion department of Harper's Bazaar. He in turn introduced her to the magazine's top photographer, Louise Dahl-Wolfe, and fashion editor Diana Vreeland, both of whom were struck by the young actress's angular features, wonderful skin color, and long, lanky figure.
The February 1943 issue featured nine shots of Betty, by now she had added another 1 to Bacall to avoid mispronunciation, and the following month she stood on the cover in fabulous vampirish garb before a Red Cross blood bank. Three thousand miles across the country, Nancy Hawks, wife of Warner Brothers director Howard Hawks and frequently cited as one of the ten best-dressed women in America, was struck by the unusual Bacall. She got her husband to call his agent, Charles Feldman, and just as Betty was about to sign with Columbia as Bazaar's representative for the film Cover Girl, a frantic call came through from Hollywood.
Three days later Betty was out there, meeting with Hawks and preparing for her first screen test. Although this proved not entirely successful, Hawks found Betty (whom he renamed Lauren) extremely photogenic and liked, as he put it, her "cohesive physiognomy." In May 1943, she signed a seven-year contract and began studying acting and singing, but for months no work was forthcoming.
Finally, Betty was presented with the possibility of playing opposite the charismatic star Humphrey Bogart in To Have and Have Not.
The novel by Ernest Hemingway had originally been sold to Howard Hughes for $10,000; Hawks bought it from Hughes for $80,000, and a script, which radically departed from the book, was being prepared by Jules Furthman and William Faulkner. But this prospect didn't thrill Bacall. "How awful to be in a picture with that mug, that illiterate," remarked Bacall, who preferred Cary Grant. "He mustn't have a brain in his head." Bogey's initial impression of her wasn't much better. The two were introduced by Hawks while Bogey was shooting Passage to Marseilles. She was merely a prop," said the actor, "which could add a lot or could ruin the picture."
For the next six months Bacall prepared to try out for one of the two leading female parts. She got the role of Bogey's girl and the next time the two met the brusque actor changed his tune. "Saw your test," he said. "I think we'll have fun working together, kid."