Captain Miles Keogh's horse, Comanche, who was found wounded but still breathing, survived Custer's Last Stand.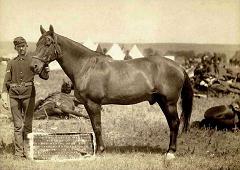 After being rescued and nursed back to health by the U.S. Army in 1876, he was put to work trotting in parades and making other heroic public appearances.
In April, 1878, Colonel Samuel D. Sturgis issued a humane order to have Comanche retired.
As an honor, he was made "Second Commanding Officer" of the 7th Cavalry at Fort Riley, Kansas, where he became a pet or sorts, leading parades on occasion.
Comanche died in 1890, and is one of only two horses in United States history to be buried with full military honors.
The other horse was Black Jack, who served in the Caisson Platoon of the 3rd U.S. Infantry Regiment in the 1950s, and participated in many state, including John F. Kennedy's.
Comanche's remains were sent to the University of Kansas and preserved, where they can still be seen today in the university's Natural History Museum.
Comanche's not the only battle horse we know the name of. Plutarch immortalized Alexander the Great's horse, Bucephalus, when he told the story of how Alexander trained it as a boy.
And we know Napoleon's horse Marengo was named after Napoleon's success at the Battle of Marengo.
After Napoleon's bitter defeat at Waterloo, the horse was captured by the British and gleefully displayed in parades and such until its death perhaps from humiliation.
Finally, like Washington, General Robert E. Lee also had a famous horse named Traveller, which is buried next to Lee.
Their graves can be found on the campus of Washington and Lee University in Lexington, Virginia.