Before the electronic age, ticker tape was a thin paper ribbon of information fed mechanically to the brokers on Wall Street.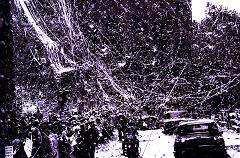 At day's end, floors were ankle deep with ticker tape.
On October 28, 1886, the elaborate dedication of the Statue of Liberty was visible from the brokers' windows, causing such excitement that they began tossing ticker tape out the windows.
That's how the ticker tape parade became a New York tradition.
Lower Broadway through the Financial District in New York City is called the "Canyon of Heroes", and has plaques in the sidewalk at regular intervals to celebrate each of the city's ticker-tape parades.
Customs & Traditions