Piggy banks are storage devices traditionally used for coins and are generally used by children of all ages.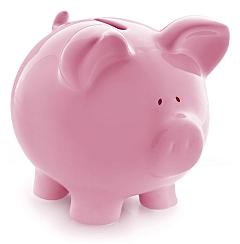 Piggy banks are usually made of ceramic or porcelain, and serve to teach children the value of money by encouraging them to save money.
Money is inserted through a hole in the top and traditional Piggy Banks must be broken open for the cash to be retrieved.
The name Piggy Bank originated from the Middle English word "pygg", which referred to a type of clay used for making objects such as jars.
People often saved money in pygg jars made out of the orange clay.
Pretty soon, the spelling of "pygg" had changed, and the term "pygg jar" had evolved to "pig bank."
The oldest known Piggy Bank is from the 2nd century B.C. Greek colony Priene, Asia Minor, and features the shape of a little Greek temple with a slit in the pediment.
The official mascot of Pike Place Market in Seattle, Washington, is a bronze cast piggy bank named Rachel that weighs nearly 600 pounds.
Rachel is located at the corner of Pike Place under the "Public Market Center" sign.